District Heating Services in Ireland & UK
What is district heating, and what are district heating services? 
District heating networks (DHNs) are pipeline networks that help significantly reduce the pollutants and thermal emissions within city areas by utilising these emissions to provide thermal energy for multiple buildings from a central energy plant (or plants) through underground piping networks. There is a drive to achieve maximum fuel utilisation, which is precisely why there has been a significant increase in the development of district heating schemes.
At Proven Project Constructions, we aim to offer a broad range of district heating related services that aim to provide solutions for the district heating networks sector to ensure the longevity and success of all DHN projects. We are the future of district heating in London and the UK. We are either the Main Contractor, Sub-Contractor or Main Contractor to Energy Companies, Local Councils and Developers, Main Contractors and Mechanical Contractors. This has allowed us to be the go-to person behind many high-profile projects like Birmingham City Council Broad Street and Queen Elizabeth Olympic Park.
Our broad range of district heating services is explained below:
DESIGN
We have the needed expertise to help with the design of DHNs. There are several challenges and restraints that can be faced during the design process for a DHN, and we possess the necessary skills and tools to help you overcome them. Our design services will help you ensure the best outcome for your heat network project.
At PPC, our design services include:
Technical design compliant with RIBA Plan of Work Stage 4.

Capacity to undertake RIBA Plan of Work Stages 0 to 4.

Feasibility studies.

Design review and commentary.

Value engineering options.

Pipe sizing, hydraulic information and pipe route selection.

Stress analysis calculations.

Design and space coordination.

For Construction drawings.

Building entry design.

As-built drawings.

Fibre optic routing.

Temporary works design.

Design and build capability.

Logstor accredited.

Mittel Jointing.

Nitrogen filling.

TDR surveys and reports.

District heating maintenance.
We will take a unique look at each project to create a custom solution strategy to ensure that the needs of each project are adequately met. This includes careful consideration of the climatologic, economic, and energetic parameters that should be considered when designing such a network.
SUPPLY OF PRE-INSULATED PIPEWORK
Pre-insulated pipes are crucial for the success of any DHN project. These pipes usually consist of a centralised process pipe enclosed in a layer of rigid foam with HDPE or a galvanised steel outer casing. The goal of these pipes is to transport fluids and gasses with minimum heat loss or gain, contributing to cost savings and efficiency in DHNs.
At PPC, we pride ourselves on being:
Logstor approved supplier.

Powerpipe approved supplier.

Brugg approved supplier.

We can also supply other pipework for project-specific needs, such as Rehau or Flexenergy.
Improvements in insulation standards can reduce heat and temperature losses. Reduced heat loss from pre-insulated pipework means cost savings as these pipes will be more efficient in providing heat. Although these pre-insulated pipes might be more expensive, this process is all about balancing the rising cost of insulation with the savings made in the heat supply system.
CIVIL WORKS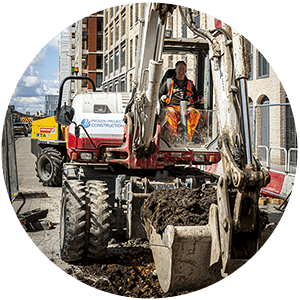 Every year, outsourcing is becoming more popular. It will soon be one of the most important industries in the world. Because civil works services are required for many reasons, it is becoming increasingly popular to use outsourcing for DHN projects. This type of work can be outsourced for many reasons and holds many advantages.
The civil works that PPC provides includes:
Ability to undertake civil works such as trenchworks, groundworks, drainage, and concrete works.

De-risking of projects by undertaking both civil and mechanical works.

Directly employed civil and mechanical trained personnel.

Planning and early contractor involvement.

Traffic management plans.

Streetworks coordination, road noticing and permits, TTRO, Section 50's, parking bay suspensions, TFL and Local Authority liaison.

Trial holes.

Cat and genny scanning, excavation, trench support, backfilling, Clegg testing, compacting NRWSA reinstatement.
By outsourcing your civil work, you will be able to spend more time on critical tasks while simultaneously cutting out the need to employ a full-time labour force. PPC's expert teams are populated with industry experts in civil construction and mechanical works to provide you with the necessary expertise and resources to implement a successful project.
INSTALLATION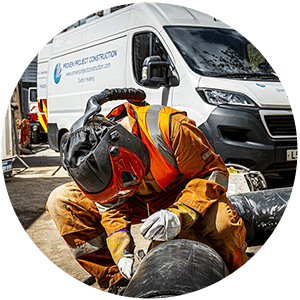 There may be various reasons why a DHN project could fail, but inadequate installation might be the most common reason. It is essential to work with well-equipped and trained teams to install DHN systems at all levels of a project. 
At PPC, our installation services include: 
Unloading and storage.

Lowering pipework into a trench, lift plans, setting out and positioning.

Leak detection wiring comprising crimping, installation and continuity tests.

Welding by Class 1 welders.

Logstor accredited jointing technicians.

Mittel jointing capability.

Fibre Optic installation and splicing.
We are a company that does the job right the first time. We maximise value, foster long-lasting client relationships, and deliver peace of mind for end-users. Our expert resources are available 365 days a year to handle any size job. This allows for better control and quality assurance at every stage.
TESTING & PRE-COMMISSIONING
Pre-commissioning involves external system inspection, preparation and testing of the heating system, and personnel training. An external visual inspection of the heating system should be done to ensure that all components are correctly installed. The location of the heating equipment must be in accordance with the project plan. All connections must be hermetic.
At PPC, we provide:
Flushing; raw water and chemicals.

Mechanical pigging.

Hydraulic pressure testing.

Nitrogen filling.

Ice pigging.

Laboratory water quality analysis.

Air testing of joints.

NDT of a weld by either x-ray, magnetic particle inspection, ultrasonic testing or phased array.

Continuity testing of leak detection systems.

Clegg testing of backfill.
Pre-commissioning and testing allow developers to see if heat networks work before handover. At PPC, we ensure that DHNs are up to code using a clear set of performance criteria and standards and proven testing methodologies to ensure a project's longevity and success.
HOT TAPPING / PIPE FREEZING / LINE STOPPING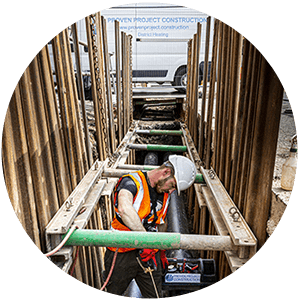 During their operational lives, modifications to pipelines, piping systems, and tanks are expected. These modifications can be general maintenance, planned or emergency repairs or expansions of existing systems. Companies need to plan carefully and do critical analysis before shutting down any facility or pipeline for whatever reason. Any production interruption can be critical due to the high product volumes and revenue involved in the oil-and-gas sector. 
At PPC, we offer the following three solutions to this dilemma:
Hot tapping

allows for the connection to an existing live system without interfering with the flow or emptying the vessel or section. This allows the asset owner to continue normal operation even while modifications or maintenance are being done.

Pipe freezing

isolates a pipework section by forming an ice plug. This technique is used for repairing and modifying pipelines. Pipe freezing chills the pipe's exterior for a time that allows the fluid inside to solidify. To make work more efficient, the frozen liquid is used to isolate a section of pipe.

Line stopping

is the isolation of a pipework section by mechanical means. This controlled method allows you to isolate a section by inserting a line plug into the pipeline. The system will continue to function normally, allowing for repairs or maintenance of crucial components downstream.
With large-scale projects that would cost too much to put on old, these solutions provide relief to asset owners and operators who had previously been forced to shut down the entire facility. They can modify or repair their facilities without needing to shut them down.
LEAK DETECTION SYSTEMS
Monitoring the condition of DHNs is crucial for energy efficiency and monitoring pipeline leakage detection. These faults can be difficult to detect without remote monitoring, which can be detrimental to the sustainability of a project.
At PPC, we can help you with the following:
Supply and installation of surveillance units such as the Logstor RedDetect X1L.
The surveillance unit connects to the two uninsulated copper wires in the pipe network. The surveillance unit monitors the ohmic resistance and provides information on moisture that may have entered the pipe network through the soil or leaked from the service pipe. At PPC, we use water leak detection systems to help us detect these leaks before they become detrimental to your projects.
TDR SURVEYING
Time-Domain Reflectometers can be used to determine specific characteristics of electric lines. They can locate and characterise faults in metallic cables, such as coaxial or twisted-pair wire, by observing reflected waveforms.
At PPC, we provide you with:
Trained engineers with our own mobile TDR, model Tempo TV220

Production of TDR reports
In-place testing of long cable runs is an everyday use for TDRs. It's difficult to remove or dig up a cable that may be several kilometres long.  They can detect resistance in joints and connectors as they corrode and increased insulation leakage as it absorbs moisture. A TDR can pinpoint faults within centimetres long before it causes catastrophic failures.
GPR AND SURVEYS
To ensure the safety and reliability of DHNs, surveying is of critical importance.  Surveying will equip you with the information needed to make informed decisions, understand your pipeline, reduce downtime and clarify liability issues in the event of third,-party damages.
At PPC, our surveying services include:
In-house surveying (including asbuilts) with our own survey equipment

Ground Penetrating Radar (GPR)

Topographic Surveys

Underground Utility Surveys

STAT Packs and Utility Records

District heating system network surveys
Because of the large scale of DHN projects, these systems can prove to be crucial and may, in some cases, even be required by law to meet safety standards. At PPC, our team has the necessary expertise to help you with these surveys quickly and efficiently.
MAINTENANCE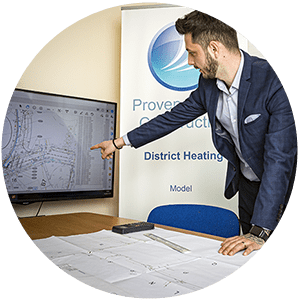 There is no such thing as a pipeline that doesn't corrode or need maintenance (even plastic pipes may degrade over time.) This is what makes ongoing maintenance so important. As with many other things: preventing damage is much more cost-effective and time-effective than replacing or repairing broken parts, especially when you can not afford the downtime.
At PPC, our maintenance services include:
Chamber and valve maintenance

Alarm system monitoring

Undertaking of periodical valve operational checks and maintenance to ensure functionality

Detailed report and maintenance schedule
Our team prioritises maintaining the integrity of all the components across your pipelines to ensure the continuous operational functionality of DHNs. This is not a once-off service but rather one that we can provide you with on a regular basis so that your pipes will be working for as long as it takes.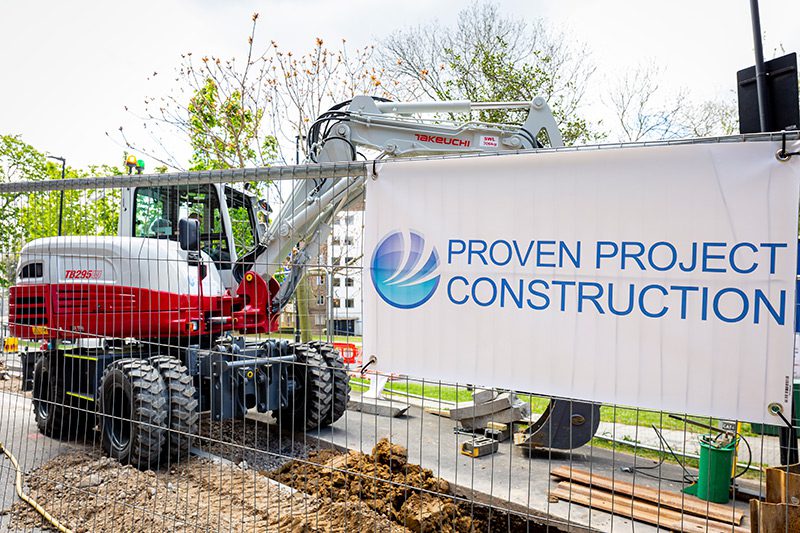 "PPC have engaged with Pinnacle power on several key District Heating project across London in the past 3 years. We have always found them to be professional, knowledgeable, reliable and pro-active in their approach to project delivery. Their performance has been exemplary and they always meet any challenge head on, I would be delighted to work with them on future projects."
Scott Winning
Head of Construction, Pinnacle Power
www.pinnaclepower.co.uk
FIND OUT MORE
Would you like to know more about any of our solutions for district heating UK? Give us a call to speak with one of our expert team members, and we'd be delighted to discuss your next project or explore how we can assist you with our district heating services.
We are the future of district heating in the UK and Ireland, contact us today to find out more about our District Heating Services.